Are you looking for your next gardening job? It can be a little overwhelming not knowing where to start. There are many different ways to find gardening jobs. And although it can be great to have so many different options available. It can be difficult to know where to start. And what you have to keep in mind, and be mindful of too.
Here is our ultimate guide on the best ways to find your next gardener job.
1. Protect Your Personal Info
Whatever the set up of the job application is, never put all of your personal information on everything. For example, you do not have to put your address on an application. Just your mobile phone number, email address, and city where you live is plenty.  When you go through to further stages in an application process it might be suited to also give your full address. But you do not have to put this on your CV straight away. When you are applying for lots of jobs or registering with many agencies, your CV will go everywhere. So always be cautious with your data and identity, and when to share what.
2. Make Sure Your CV Is Up To Date!
This is your first step when you are trying to find a gardener job. Your first chance to impress. So make sure that your CV is correct and up to date. You want to have your latest jobs and qualifications listed on there. And even if you have had some sort of career break of were out of a job for a while – make sure you note that too. So that there aren't any gaps, and simply just explain what you did during this break.  You can download our template CV/resume here.  Make sure to include a nice photo of yourself. If you are not sure – you can find a helpful article about CV photo's here.
3. Use All The Agencies
The great thing about finding a gardener job at this time is that there are lots of agencies you can work with. For you, it will make the process much more doable. And you will get a little bit more support to. You will have a vast choice of agencies, as well as job websites to apply for gardening jobs on. Remember to be mindful when sending or uploading your CV.  Make sure you remove your full address and keep your data safe.  Public job sites such as Indeed and Gumtree are a very good way to find new gardening jobs, but again you don't know where your data will actually end up – so just be careful with what data you put on there.
4. Apply for Suitable Roles
When you are looking to find a gardener job, it is tempting to apply for anything that might seem remotely suitable. But this will actually work completely counterproductive. So before you start, make sure you really understand your skills and experience. If you, for example, are fairly new to gardening, but you are looking for a senior gardener role, this will not work. Of course, the salary might look great – but it, unfortunately, does not work like that. You will most likely be wasting your time and getting your hopes up for an unrealistic job. So make sure to only look for, and apply for jobs that match your skills and level of experience.
5. Practice Interviewing Skills
Interviews can be the make or break of finding your new gardening job. So come prepared! You can ask someone close to you to help do a mock interview. The more you practice,  the more confident you' will become. Every interview is different and some can be more challenging than others. So just make sure you smile, stay calm, and breathe. Be confident in your skills and experience  – and that you are the right gardener for the job!
6. Use Your Network & Social Media
Another great way to find a gardener job is to use your network. Think about friends, family, and colleagues you might have worked with in the past. They might know of a job that would be really suited for you!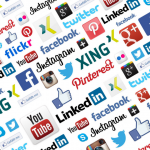 Social media is another great way to find new gardening jobs. Make sure you search for hashtags such as #gardener #gardening #groundsman #cgardeningjo #gardenerwork #recruitment #domesticrecruitment. Also join all the gardener job pages on Facebook. Lots of opportunities will be posted there. But when you apply for jobs via social media, again just be aware of how much you share. And make sure you protect your personal information.
Polo & Tweed Can Help!
Do you now know how to find a gardener job? Polo & Tweed can help! We have many years of experience in the industry and place gardeners in great jobs all over the world.  To register simply click here, and upload your CV onto your private candidate portal.  From there you can apply for any jobs of interest whenever required.  For more information please don't hesitate to get in touch – and we look forward to hearing from you and finding you an amazing new gardener job!