Your CV or resume is the first contact you have with your prospective employer so using the right profile photograph is important. First impressions count and are made very quickly. So what can you do to help make it a great first impression. We see lots of profile pictures everyday and have put together some questions you might ask yourself when selecting a photograph for your profile. As they say a picture is worth a thousand words so make sure you use them to your own advantage.
What does this photograph say about me?  Read on to see our examples of worst (!) and best (!) photos to use on your CV and resume.
You may have a great love for mountain biking, climbing or walking in your spare time, which is great and is part of you. But what is an employer looking for? Someone who is professional, well presented and friendly. Whilst your photograph might bring back great memories for you, it may not be the impression you want to give. Avoid any novelty type pictures, such as Santa hats, antlers or bunny ears.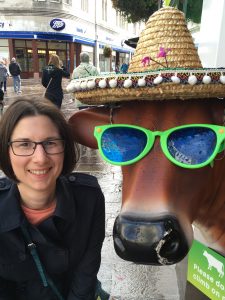 What do you think about this photo on the left?
Is the location of this picture suitable?
Does it give the best impression to prospective employers?
Yes, we like to see you've got a sense of humour and enjoy travel and new experiences, but is a giant cow with sunglasses and a Mexican hat appropriate for your CV or resume?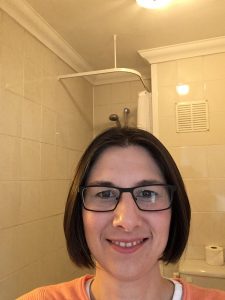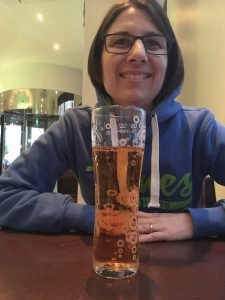 Where you took the picture is equally important to the overall impression you give.
Think about what is behind you or in front of you in a picture.
Let's take the picture on the left.  A picture taken in a bathroom, whilst it may have great light, a toilet, toilet roll and a shower in the background are not great.  Let's keep the bathroom selfies to the Kardashians.
Now consider the photo on the right.  Although alcohol is considered a social past-time in most parts of the world, emphasising your drinking habit (no matter how infrequently it may be) is not a wise first impression.  As large glass of alcohol is perhaps not the way to get a large salary.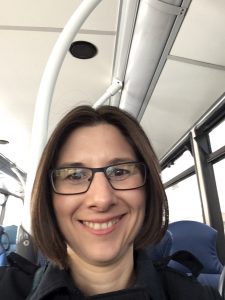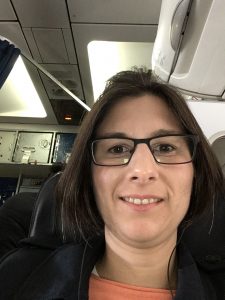 Travelling photos are commonly used, but not ideal.
Pictures taken on buses, planes or cars have very busy backgrounds.
You want your prospective employer to focus on you!
Yes, it shows you travel, but most people use public transport in some form, and unless you are a Chauffeur taking a photo with a luxury car you are in, it doesn't give the best impression.
You are the one they are looking to employ so make sure you give yourself space to shine in the picture.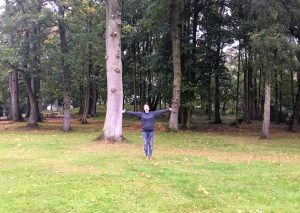 Think about the location you are in and how you can maximise it to your own advantage.
An outdoor shot will offer lots of natural light and taken against trees a neutral background. Or perhaps find a blank space of wall you can stand in front of for your photograph. Think about the option of taking down a picture from your wall so you have a bare surface to stand in front of.
What is the focus of this picture on the left?   You should be the focus of the picture. A picture taken in an amazing location with a beautiful view behind you, you are likely not really the focus. Are you the right size in the picture, a vast beautiful vista and a tiny you in the corner is not really going to work. They need to be able to see your facial features.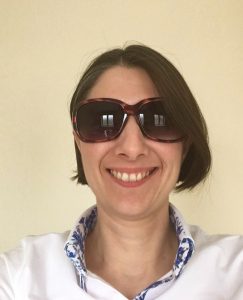 Can my eyes be seen on this photo on the left?
"The eyes are the window of the soul." Your eyes are expressive and integral to the make up of your face, being able to see your eyes is really important. Sunglasses and large hats shading your face make seeing you impossible!
When you see yourself regularly and are selecting a picture where you think you look good it can be difficult to even realise you are wearing glasses in the picture as you automatically know what your own face looks like.
Remember the person looking at the picture will have never seen you before and want to see your eyes.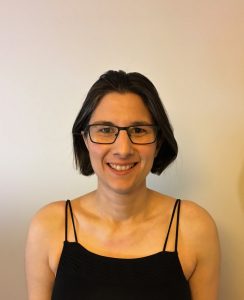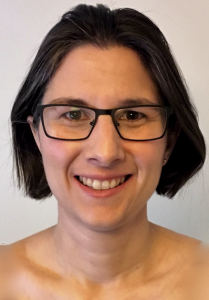 Am I appropriately dressed?
Think about what you are wearing in the picture. Bare shoulders in several cultures is considered rude and offensive, so avoid vests, strapped and off the shoulder tops. Uncovered shoulders also present a unique situation when cropped. It is likely that your profile picture will need to be cropped to fit in the standard agency CV presented to your prospective employer. Look at the photo on the left, and now the same photo which has been cropped on the right. You can see how a fully clothed picture now gives the impression of being naked!
Your wedding day may be the only day you ever had professional photographs taken and you may feel you looked your best. Wedding attire for both men and women doesn't really provide a professional impression to an employer so avoid those wedding pictures.
A nice blouse or shirt something which gives a professional feel is always going to be a safe bet. You can add a jacket and/or tie if you want. This is your picture and it should reflect you.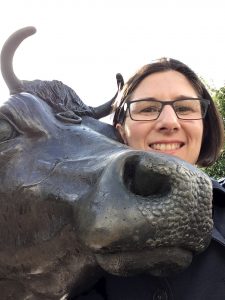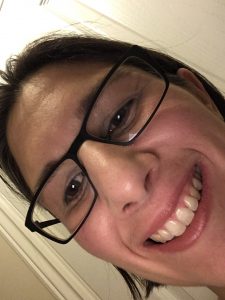 Can you see my whole face?
An employer wants to see you in your profile picture.
Make sure your full face can be seen, avoid anything covering or obscuring your face.
Extreme close ups and pictures taken at angles make it difficult for a stranger to see you in the position.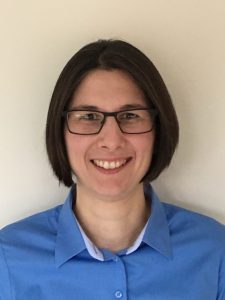 What might a good profile picture look like?
Use a neutral background.
Lots of natural light if you can.
Think about what you are wearing.
Take your photograph straight on.
Take only your head and shoulders.
Brush your hair.
Get a friend to take your picture.
SMILE!
You really don't need any fancy equipment to take your profile picture. All the pictures in this article were taken using a mobile phone camera. A little bit of time invested in taking a photograph which reflects you and lets you shine is always going to be worth while. Use the thousand words your picture represents to their full advantage.
Now you've got a great photo for your CV or resume, its time to make a great CV!  Here is our guide to writing a perfect CV (and a fabulous free template for you to download and use).