In the day when we all have far too many 'things', we're often racking our brains of gifts and experiences we can give our loved ones.  The world of Butlering is a fascinating one, and after the Butler Craze of Downtown Abby, more and more people want to experience how the 'other half live.'  If you are not one of the lucky (and wealthy) individuals who can afford to hire a Butler full time, then the next best things is hiring a Butler for the day.  So how does it work?
1.Pick your gift recipient
This really can be as wide reaching as you require.  Perhaps its a close family member who deserve to be spoilt and treated to this unique experience.  Perhaps its a colleague, client or acquaintance.  Perhaps you are hosting a party and want the guests greeted in style?  Maybe its a special occasion like a birthday or Christmas? No matter who the recipient is, ultimately the experience will be unique and special according to their needs on the day of the booking.
2. Talk to us
At P&T we've been asked for a wide range of wonderful and wacky requests.  Our freelance Butlers are quite used to traditional through to off the wall requests and won't bat an eye. The Butlers we use for our 'Butler for the day' experience are some of the most highly professional and experienced Butlers in the world, they enjoy giving utter perfection and service to their principal and promise an experience you won't forget.
Find A Butler
3. Book the date
All you need to do is then book the date.  If you don't know the date, or want to give the gift recipient the ability to book the date once they've received their gift we can provide a lovely voucher for you to present them on the special day.
4. Give your present
Then its the good bit.  Sit back and watch the face of the recipient as they unwrap their gift to discover they have become the proud employer of a Butler for the day!  If they are picking the date, they can give us a call and let us know what works best for their diary.
5. Welcome the Butler!
Then its the best bit!  The experience you've all been waiting for.  Your chosen Butler will arrive at your location at your selected time.  They will have been fully briefed about the day ahead and any special events that might be taking place.  They will most likely request a place to change into their morning suit, or if they are expected to arrive suited and booted then they will do so.  What follows next is the magical experience of a real life Butler, working for your every beck and call.  From answering the door, to picking up the phone, to driving you to the shops and waiting outside, to pouring you tea (or champagne).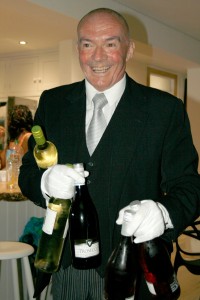 So why not give P&T a call today and book your Butler for the day!  If you are a Butler looking for work, why not register with us?  Make sure you CV is top notch by following our CV writing guide here.
Find A Butler