Do you know the difference between a Residential Care Home and a Private Home Carer? When the time comes that our health starts to deteriorate and we need a little extra help with day-to-day life, many of us don't want to go into a care home and wish to stay in our own home for as long as possible. Together with our families and friends, we have a decision to make about the best kind of care for us when the day comes.
If you are in the process of making this decision or would like to have a plan for when the time comes, here is some fabulous information about the differences between a Residential Care Home and a Private Home Carer.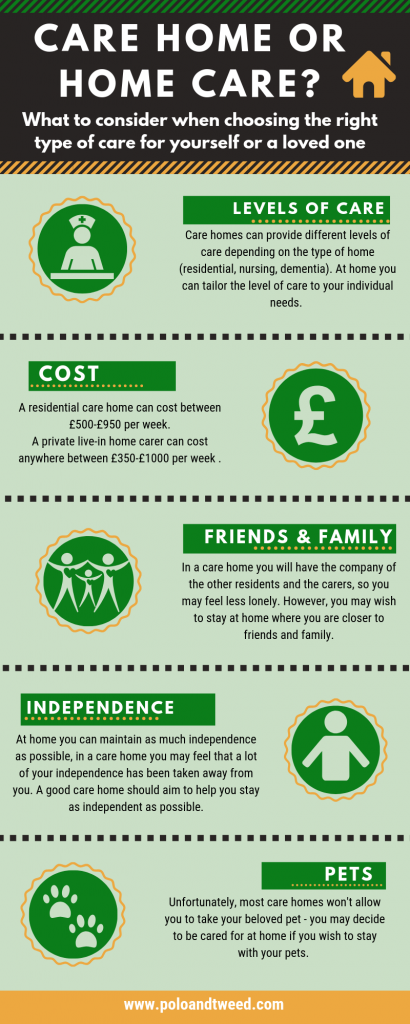 Residential Care Home

Private Home Carer

Levels of Care

There are many different levels of care homes: some care homes provide general residential care and others are specialised nursing homes or dementia homes.

The level of care is completely up to you and can be tailored to your needs. You can choose your own carer and can hire someone with many years care experience if required.

Trained care staff are available 24/7.

Even if you hire a live-in carer, they cannot be available 24/7 as they need to take breaks and holidays.

You will be cared for by various different carers.

You will have the same carer all the time.

Cost

It can be expensive, depending on the type of care home you choose.

A residential care home can cost between £500-£950 per week.

Home care may be cheaper depending on the hours required and amount of support needed.

A private live-in home care (both part time and full time) can cost anywhere between £350-£1000 per week .

Quality of life

You will always have the company of the other residents of the care home, meaning you will be less likely to feel lonely, even if you are far from friends and family.

You can stay close to your friends and family and be in the place that you know best. Being close to people and places you know is really important to some people as they get older and lose some of their independence.

You may feel that you have lost a lot of your independence, although care homes will aim to help you be as independent as possible.

Independence: you are able to maintain most of your independence.

You are less likely to get the same privacy as you would in your own home.

Maintenence of Privacy

You will have no household bills, housekeeping, etc to worry about.

You will still have to ensure household bills and housekeeping is up-kept. This can be included in your private carers duties if required.

Care homes are fitted with all required mobility equipment.

You may need to modify your home. For example, a stairlift.

You won't be able to take all of your belongings with you, and pets are very rarely allowed.

You can keep all of your belongings, and hire a carer who loves your pet as much as you do!
Whether you choose a residential care home, or to hire a private home carer. It really depends on what you want, and need. It is important to choose the right level of care for you or your loved one. As well as making sure everyone is happy with the decision.
Looking to Hire a Carer?
If you need our help or just any advice on hiring a carer, we'd love to hear from you.  You can drop us a line or give us a call and we'd be happy to chat through our specific process and how we can best help you hire a carer.