Do you need a DBS check, but not sure which one you need? In the UK, you can either choose to apply for a basic, or for an enhanced DBS. Find out here which would be most suited for you, and how to apply.
What is a DBS Check?
To find out what the difference is between a basic and enhanced DBS, let's have a look at what a DBS check actually is. You might know the DBS check (which stands for Disclosure and Barring Service) as its former name,  the CRB check (Criminal Bureau Service). The actual certificate, or check, has not changed. The DBS Check gives you a certificate that shows that you are clear to work with children and vulnerable adults. Meaning you do not or did not have any criminal convictions or cautions.
There are three types of DBS checks:
Basic DBS. This checks for spent and unspent convictions, cautions, final warnings, and reprimands.
Enhanced DBS. This is for people who work with children and vulnerable adults. This Enhanced DBS includes the same as the basic DBS check plus any additional information held by local police that's reasonably considered relevant to the role being applied for.
Enhanced DBS with list checks. This one is the same as the enhanced check, but also includes a check of the DBS barred lists.
Why A DBS Check?
Are you not sure whether you need a DBS Check or not? Firstly, an employer or future employer might ask you for a DBS check, whichever job you may enter. But for certain professions, it is a must to have an up-to-date DBS Check.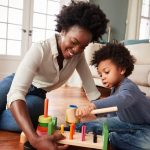 An enhanced DBS check is an absolute MUST when working with or near children or vulnerable adults. Here you can think of the obvious jobs, such as nannies, maternity nurses, tutors/governesses. But also, you should not forget any other domestic staff who work in private households. It will be likely you will be working in a household where there will be children. So even if you are not directly caring for the children, for example, you still need a DBS Check. It is also typically requested by most domestic employers as it gives peace of mind to the employer.
How Long Is a DBS Check Valid For?
A DBS check does not have an actual expiry date. This is because it simply checks the information up until the application date. Therefore, any information printed on the DBS certificate will be accurate at the time the check was carried out. It is then up to you, or the future employer, or perhaps the recruitment agency you are working with, to decide whether you need to update or refresh your certificate.
Keep Your DBS Updated
You can opt for the 'DBS Update Service', which will allow you to keep your DBS certificate up to date at any time, and it also allows for employers to check your certificate too. This costs £13 per year and is an excellent add-on option. It will save you from having to re-apply for a new check every time an employer requests it, and it will always be ready and up to date for you or any employers to check.
How Long Does a DBS Check Take?
A DBS check can take anywhere from a couple of days (once submitted) up to 30 days. On some occasions, it can take even more. That may be if the police and all the relevant bodies need to carry out further checks on you. You will receive a copy of the DBS check to your current home address. This will be the one used on the form. (and that is why it is so important that you provide us with your full and correct current address, including postcode). You should keep the DBS Certificate as you will be required to show it to your employers/ recruitment agencies.
Why You Should Opt For an Enhanced DBS Check
At Polo & Tweed, we strongly recommend anyone to opt for the enhanced DBS option when applying. This simply is the most complete, most reliable option and it will cover everything needed. Even if you are not (directly) working with children or vulnerable adults, we strongly feel that the Enhanced Check should be done. It will give your employer the peace of mind knowing a complete check has been done. Besides, if you ever were to work near children (for example, at a party or event) you are already covered. It really is the only option for domestic staff professionals.
Get a DBS Check Via Polo & Tweed
Do you now know the difference between a basic and enhanced DBS Check? If you are looking for an (enhanced) DBS, we can help! Polo & Tweed can process an Enhanced DBS (with an optional update scheme) for £88. Polo & Tweed uses the Verify service which means that we save you time and money. You also won't have to travel long distances to meet with us. Because you can process the application from a remote location. Once you have paid for your DBS we will undertake the following process with you. Contact us here now to get the process started!