Are you fascinated about the world of butlers? You have come to the right place! Lucy Challenger, CEO of Polo & Tweed was interviewed by Matt and Mollie on the BBC Radio 1 show. They talk all about the fascinating world of butlers. What makes a perfect butler, for example?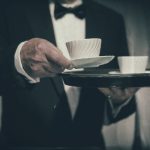 Lucy talks about how being a butler is not for everyone. You have to want to please, you have to want to serve. Discretion is an extremely important part of the job too, and be extremely flexible with travelling around the world with your principal.
Another important part of being, or becoming a butler is training. How good are the Silver Service skills of Mollie & Matt? And will they know what American Service is? Lucy explains that to be a great butler, you need to know all the different types of service. So that you can work with clients all over the world. But it can open up amazing opportunities. Such as travelling around the world on amazing yachts and private jets!
Listen to her interview on the BBC Radio 1 show here!
Part 1
Part 2
Did this chat from Polo & Tweed on the BBC 1 radio show inspire you to find out more about butlers? And perhaps you want to find a job as a butler yourself – or perhaps consider training to become a butler? We can help!
The famous Polo & Tweed training academy offers Butler, Silver Service, and all other types of training in private training setups, group training as well as online. You can find out all the different types of training options here. And why not give us a call to chat about what might be the best option for you? We can also help you find the best new butler job as we work with clients all over the world. Your butler future might start here!