Do you know how to become a Head Housekeeper? It can be an amazing and very exciting career progression if you are currently a Housekeeper. It will open more doors, give you more responsibility, and will likely include a salary increase too. But knowing how to get there is important. So you can take the right steps in order to progress your career.
What should you do to become a Head Housekeeper?
What Does The Role Mean?
To look at how to become a head Housekeeper, it is important to understand exactly what the role entails.
A Head Housekeeper is someone who is in charge of at least one, or sometimes a team, of housekeepers. This can be in a private household or in a larger more corporate setup too.
One big confusion about a Head Housekeeper is that they would not do any cleaning or Housekeeper tasks as all anymore. This is not true! A Head Housekeeper is still doing most of the cleaning and keeping up of the house. They will simply have the additional tasks of being in charge of the other Housekeeper(s) on the property. And they will oversee all the tasks and work done.
If someone were just to be managing staff, this is likely to be a House Manager or even an Estate Manager. But a Head Housekeeper still very much gets stuck in with the day-to-day cleaning and upkeep tasks.
So if you are looking for a role in purely management only, a House Management role might be more suited for you rather than a Head Housekeeper role.
Experience
A first thing to look at when you want to land this exciting new job role is experience. You will not be able to progress your housekeeping career if you have not worked at least several years as a Housekeeper before.
What helps you more to achieve your new work goal quicker, is to make sure your experience as a Housekeeper is quite varied, and high-end. A Head Housekeeper is likely going to be working in a larger house or estate. So having had experience in a larger setup, where you were part of a team will be very helpful. Ideally where you were working under Head Housekeeping already. So you can really see what the job exactly entailed.
However, having worked as an independent, sole Housekeeper is also a very important experience to have on your CV. It shows that you can work independently. That you can make decisions, responsibly, and get the job done.
An ideal CV of housekeeping experience is one where you will have been in the same job for at least several years. Of course, things can change. And sometimes out of your control. But if you are looking to progress your career try and find a job that you know you can stick to for at least several years.
Training
A key element of how to become a Head Housekeeper is training. You can have all the experience in the world as a Housekeeper. But some things will need to be taught, or trained, outside of the job.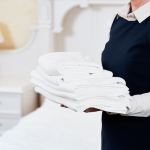 What can be really worth it is to look at both more extensive Housekeeping training, as well as at management training.
The housekeeping training will just make sure you really, truly, understand, and know every single aspect of the housekeeping job. There might be tasks you rarely do, such as flower arranging or shoe polishing. Just to name a few. Taking a specific housekeeping training will ensure you are fully up to date on all the skills you can come across. And likely will have to teach your housekeeping team once you are in charge!
A management training course will be very important for you to understand what it takes to be in charge. How to hire and fire people. How to do rotas and schedules. All things you might not have thought about. And you might not have any experience in! Taking a House Management specific training course will be the best option as it will be directly relevant to working in private households. A more general, corporate management training will likely miss out on some key aspects you will come across in your new career as a Head Housekeeper.
How can Polo & Tweed help?
Are you ready to progress in your housekeeper career? We can help! Start by updating your skills via suitable training and qualifications. Our Polo & Tweed training academy brings all the best people in the industry together as trainers for you to learn from. You can take training in the form of tailor-made one-to-one training, or even online training. We can also help you find your new dream job, with amazing job opportunities all over the world. Why not contact us now to find out more!