Polo & Tweed specialise in recruiting staff for HNWI (high net worth individuals) and VIPs internationally, so how can you apply for those positions?
In this blog we will show you how you can apply for that perfect dream job through our online system. Please note to be able to follow the below process you need to already have a registered Polo & Tweed online log in. If not, please register here.
Email Is Better
We love nothing more than chatting with our candidates but we also know you are busy people too! We want to find you jobs so unfortunately, we can't spend all our time chatting. To help speed the process up please send us an email if you can rather than a phone call.
As we recruit for positions all over the world, not everyone is in the UK or the same time zone. Our easy to use online system is available 24 hours and is the perfect way to let us know which job you want to be considered for.
Important – Only after you apply for a position is the employer sent your CV. So make sure you keep your eyes peeled for any new jobs added, "The early bird catches the worm". (A great way to make sure you don't miss out on opportunities is to have your personal login set so that you receive email alerts when new jobs are added. See our previous post on ***how to get the most out of your Polo & Tweed Login**** for a how-to.)
Search And Apply For Job Vacancies
Using your Polo & Tweed online login, this process is super easy. First, log in to your private candidate portal and from the menu across the top of the screen select "Search". This will take you to all the available vacancies Polo & Tweed are recruiting for now. If a job is listed here the vacancy has yet to be filled, we don't have closing dates as such, we are looking for the right fit for the family. We value our candidates and want to make sure you are happy too. Working for a family is a very personal thing, it is a working relationship and both parties need to be happy.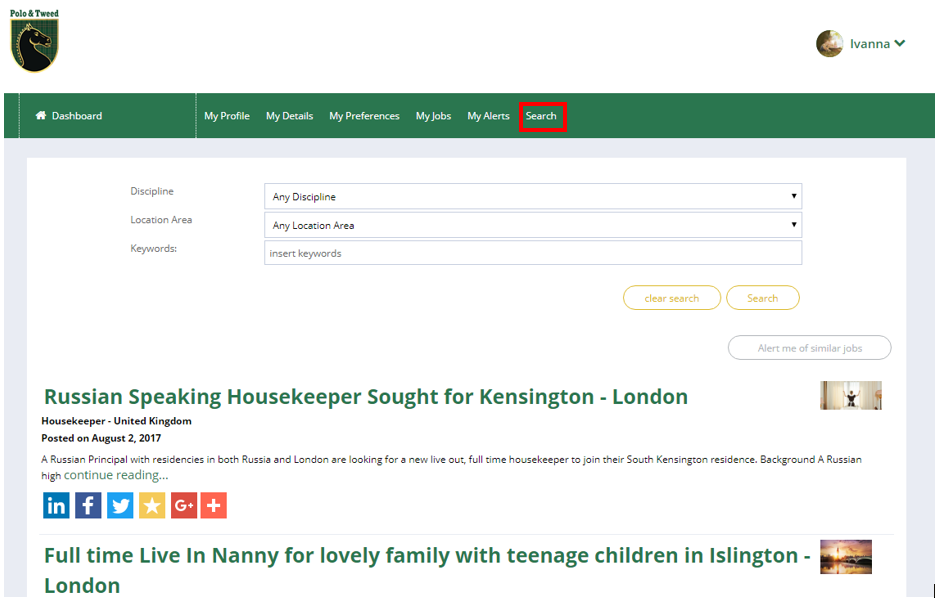 You can filter down the list of vacancies using the two drop-down lists, "Discipline" and "Location Area" or type keywords into the box at the top of the screen. Select from the drop-down lists and then press the search button. You should then be left with those vacancies which match your criteria.
By clicking on the job title in green you are taken to the job specification. At this point, it may look like you are no longer logged in as you will no longer have your own name at the top of the page or the menu along the top, but you are still logged in.
Please read the job specification carefully and think is this job for you? We want you to be happy and spending the time to read the job advert is time very well spent.
Scroll down to the bottom of the page to the green "Apply" button and click.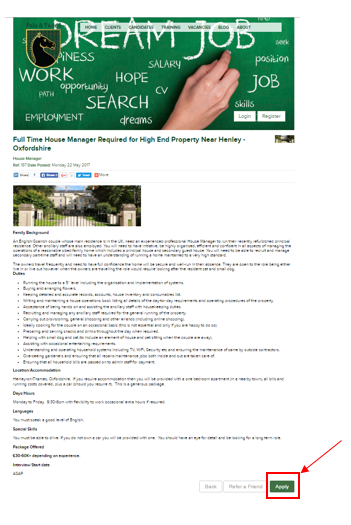 A form will open with your details already completed. Please make sure the mobile number we have for you is correct as we will contact you regarding your application using this.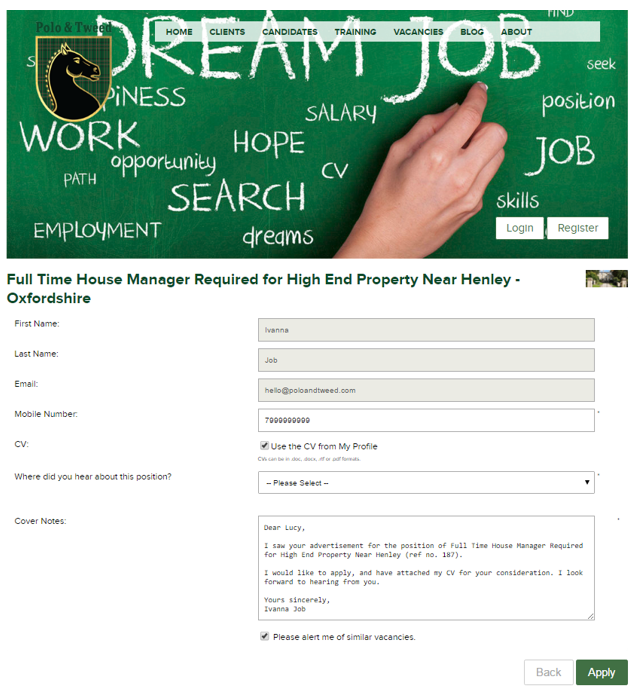 Your CV
The tick box to the right is automatically selected. When selected, your application will be submitted using the CV we already have on file for you. If the CV we have on file is out of date or you have rewritten your CV to be more relevant to the position you are applying for, deselect the tick box and upload your new CV.  There are some great tips on how to write a great CV here.
Finally, click the green "Apply" button at the bottom of the page and your application will be submitted. A confirmation screen will then appear so that you know we have received your application.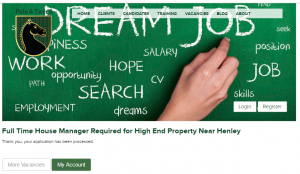 "When Will I Know?"
People often ask the question "When will I know?".  Unfortunately, this is like asking "how long is a piece of string?"! Every family is different and will move at its own pace. Some families move quickly, whilst others are slower and this is perfectly normal.
You can see the progress of your application in the "My Jobs" section of your login, please see our previous post about how to get the most out of your Polo & Tweed Login for more details. It is best to assume the family will want to move quickly so please make sure you are ready to reply to any requests for further information from us. Equally, please be patient if you don't hear anything and track the progress of your application through your log in.
We want to work with you to help you find your dream job. So remember to be on the lookout for new jobs being added to our vacancies list and apply online. We need to know you want to be considered for a position!