On a bright September morning, a group of eager and excited students gathered at Polo & Tweed's training location, a 5* hotel, to take part in the Polo & Tweed housekeeper training course.  An interactive and jam-packed three day training course, the group of students joined the training for an array of reasons.  Sarah wanted to increase her skills and gain a promotion to Head Housekeeper.  James was keen to work towards his Butler qualification and required additional housekeeper skills in order to manage the staff in the household.  Tamzin was keen to take a sideways step from commercial housekeeping into domestic housekeeping and needed to prove to prospective employers that she had the skills to do it.
Each student from the UK and around the world always comes to us with a variety of reasons to undertake the training, but they all have on thing in common – the desire to learn and evolve the current skills they have.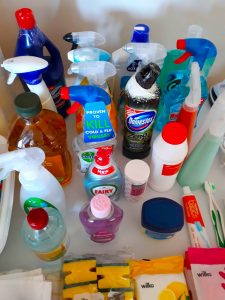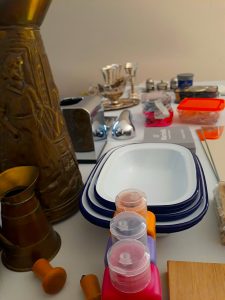 At the start of the course, students are inevitably nervous, but this is to be expected. Our head housekeeper trainer Leanne is always great at relaxing the students and helping them feel comfortable from an early point.  The more relaxed the students are, the more receptive and open they will be to new ideas.  After all some ideas may challenge their existing ideas!
Leanne always gets the students stuck into the material quickly.  There are many modules that need to be completed over the three days, so the training is intensive and hands on.  Each module is broken down with power point and videos, glass and group discussions followed by practical application.  Many modules have a detailed selection of props, specifically designed for the students to handle and feel the different types of materials they might find in high end properties and then in turn learn specifically how to handle and treat them.  After all, you need to know what marble looks like in order to identify it before you attempt to clean it!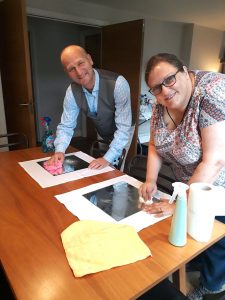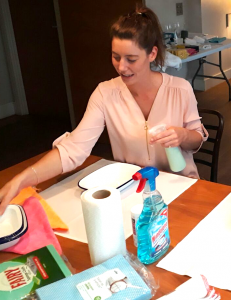 No detail is spared, with one of Leanne's favourite moments of the training as she proudly brings out a sample of red wine, coffee and even blood (!) to teach the students how to stain the sample material we have and then learn how to treat and remove the stains.
It's always very clear that Leanne's passion is for providing the highest level of service and care to her own clients and in turn the students she teaches.  She draws on the wealth of experience she has, and uses each example with personal experiences she has faced (with confidence of course) in her own professional career.
During the three days, there are many moments for laughter, with students often finding amusing moments in the videos or group discussions.  After all laughter is a great way to learn and inspire – and we believe that the course should be as fun as it can be – whilst at the same time, emphasising the need to learn and explore new ideas and techniques.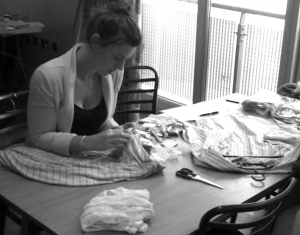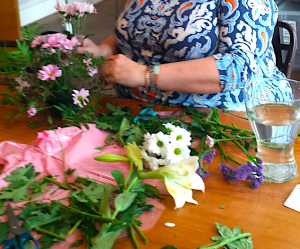 The clothing section of the course is detailed and in depth, with the students learning about the art of folding clothes through to packing and unpacking.  Leanne is meticulous in her folding and care of clothing – she has heard the horror stories of leather cushions being put in the washing machine, and couture dresses being put in the tumble dryer – there are many gasps of shock as she recounts the stories she has been told – and what was learnt from these mistakes.
On the final day, the students sit down to complete their written assessment.  They are nervous, but excited to demonstrate the knowledge they have learnt.  Then one by one each student completes a practical exam, with Leanne watching on to mark their progress.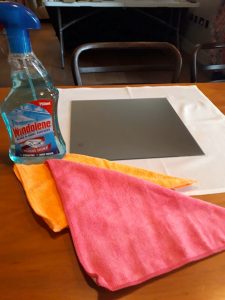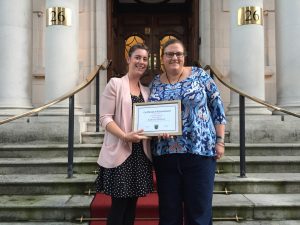 As all the students complete their work, Leanne marks the final paper and the students eagerly await the news of their course – have they made the grade?
Yes! They have all passed with flying colours, and the students are all full of smiles as they are awarded their certificates.
Tired, but with new and exciting information filling their minds, the students depart to a new phase of their career and journey in life.
Are you looking to learn new skills in housekeeping? We have a number of courses from group training through to private in-situ or private at our venue training options.  Why not drop us a line today and learn more about what housekeeping training we can provide for you.