You have probably heard of a nanny before, but did you know there are many different types of nannies? Do you need a nanny to stay with your family so their work hours can be a little more flexible than a common nanny? If the answer is yes you are looking for a live-in Nanny. Depending on the needs of your family, the level of flexibility in the care you require and your daily and weekly routines a live-in Nanny could be the perfect option.
What is a live-in Nanny?
A live-in Nanny is unique to a common nanny because they live in the property or on the property grounds (perhaps a separate annex or building). So it is vital that the family hiring the Nanny have sufficient space to host the live-in Nanny. They are normally also given additional packages such as access to a car, a portion of their food covered and other perks such as their bills being covered. These packages will be on top of the salary earnt by the nanny.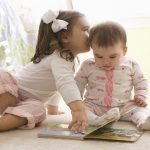 So Why Should You Hire A Live-In Nanny?
There are many advantages to hiring a live-in Nanny over any of the other types of Nannies out there. Having the nanny living on the property brings many benefits which greatly outweigh the negatives. The main reasons a family that has enough space to accommodate a live-in nanny should consider it are:
Flexibility 

Having a nanny on the property gives you flexibility in certain situations, like if you are caught later at work. Or in an emergency where you need someone to desperately watch the children at very little notice. You could also discuss a more flexible schedule with the nanny to maybe start work a little later in the day and finish late. However, it is important to respect their privacy and downtime (this is unless it is stated in their contract that they're on call for 24 hours). So it is pivotal to not abuse this position.

Additional property care 

If stated in the contract the live-in nanny can assist with watching the house if you are going on holiday. This is an advantage as it also gives the homeowner peace of mind that someone is looking after the house also. The nanny can also help the homeowner look after any family pets or animals if they are away. However, this also has to be stated in the contract and shouldn't be taken advantage of.

No commute to work 

This means that the nanny should always be on time to work without any fear of being caught in traffic. With Covid-19 restrictions as well a live-in nanny would be very handy and should give the family peace of mind. This is due to the reason that they won't be mixing households by going to and from work.

Save costs 

Another pro of having a live-in nanny is that you can save a bit of money. The reason for this is because accommodation can be offered as a perk. Remember though that anyone looking to hire a live-in nanny must offer the market rate. Also, it is not possible to just take accommodation costs from the salary.

Great for emergencies 

As mentioned earlier they are always on hand to be called upon in the event of an emergency. This again gives the family reassurance that if anything suddenly happens the nanny can step in and assist.
These are the main reasons why a family who needs these reassurances and service should hire a live-in nanny.
If you are interested in searching for a live-in Nanny to assist with making your family routines run more smoothly we would be delighted to help. Our highly experienced consultants can help you find the perfect candidate. Get in touch and we look forward to speaking to you.