When running a hotel – all will stand or fall on your guest experiences. It does not matter how well you or the team feel things are going – if guest satisfaction is not up to scratch it will affect the whole business. Choosing the right, focused and tailor-made training for your team, or specifically selected teams, can really make a difference in the productivity of your provided service and therefore can directly have a positive impact on your guest satisfaction. So how can training your hotel staff improve guest experiences?
Guest Experiences – Need To Know 
To look at how hotel staff training can improve guest experiences, we need to understand what guest experiences actually mean. Guest and customer experience can be measured in many different ways. You will find many cases studies on this subject. But before you bury yourself in lengthy and complex management concept studies and books though, know the following aspects of customer service.  Then keep them in mind when working with your team to improve the guest experience.
Solely the guests
Understand that guest experience comes entirely from your guests and is solely defined by them. This might sound very obvious, but really try to step into the guests' shoes to fully understand and experience things from a guests perspective.
Prevention is key
Prevent instead of reacting. Practically this might be difficult, as you might not be aware of any issues until you receive complaints. However having our trainer(s) come in on surveillance (as discussed further in the next paragraph) can give you a great insight into arising issues you might have not been aware of yet, and gives you the opportunity to fix it before it becomes a complaint.
Experience Length
Length of experience: Guests will judge their experience long before they actually step foot through your doors, and long after they have left. Have a look at your pre-booking communication which really does give off the first impression. Also, think about what types of follow-ups you can add – or personal touches when a guest returns for another visit.
Outside influence
A multi-levelled guest experience is depending on both social and personal judgement and experience and can also be influenced from outside – your guest might have read or heard negative reviews about you previously and will come with certain assumptions you will already be fighting against.
Everyone plays a key role
An all-encompassing guest experience is shaped by anyone and everyone in the business. The front of house team's welcoming of the guest is of absolutely equal importance as the IT team running a functional and user-friendly website and booking system, as well as the housekeeping team and the service staff remembering favourite drinks. It is all about the integration between the different departments too. You can have an amazing front of house person, but if the lobby has not been cleaned properly when the guest steps in, or if the valet is not at the right place at the right time, things can go negative very quickly. Once you realise every single person on the team is crucial to success, however high up or low in the ranks they may be, you can apply this focus and improve your overall customer service quality.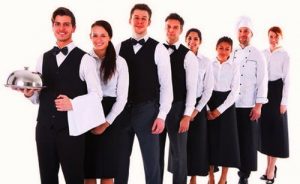 Transparency
Make sure everything you and your team do is genuine. Guests will see through fake attempts of providing service instantly, that goes from the experiences during their actual stay, to follow up marketing emails enticing them to a return visit. Make sure that the intention is always genuine, always wanting to provide good service, giving them the extra-special details that never go unnoticed.
How Training Hotel Staff can Improve Guest Experiences
Surveillance days
Starting with the first point in the previous paragraph: To improve the guest experience you need to fully understand what the guest experience actually is. Just some reviews online simply do not give you enough. This avenue is very limited for information on what actually goes on. Before booking and setting up the actual training days, a Polo & Tweed trainer or a team would visit the hotel. They can do this anonymously if you prefer. They would troubleshoot and find out where things are going wrong. The trainers will use this to create a tailor-made training package focused on the issues the surveillance person or team came across – combined with your indication of training needs.
Skills training
You might have great, loyal and hardworking staff who want to make things work. Which is a very important thing to have. However, sometimes their skills might simply lack. It is difficult to change attitude, but skills we can teach, plenty of them! We have a very large selection of modules we can adapt to your specific needs. This can be anything from specific cleaning methods or stain removal skills for the housekeeping team. As well as different types of service and table settings for the service team. Or understanding different types of cultural etiquette for the front of house team. Just to name a few of many examples.
Teamwork and organisation
Different from above, you might have very skilled workers, but for some reason, things are still not flowing well. Then it is worth looking into training subjects like teamwork, organisation, planning and schedules. Often staff are not clear enough on their exact tasks. Or they do not have a clear schedule to follow. This can result in things taking too long or simply being forgotten altogether. On many occasions, there might be issues within a team too. We are dealing with people after all. Although it will be impossible to force everyone to get on well and be friends, our trainers can provide practises and techniques to enable the team to work together. Also, how to learn to support each other and stop things from being counterproductive.
How Can Polo & Tweed Help?
Are you ready to find out more concretely how training your hotel staff can improve guest experiences? We would love to hear from you regarding your Hotel or hospitality business. Our highly experienced consultants can explain to you about our training methods. We will be able to tailor-make your training exactly for you and your staff. So why not get in touch here and we look forward to bringing your hotel to the next level!