Do you love to work in your garden? Do you like to make sure your garden or outside space is looking the best it can be? Then make sure you are preparing your garden for the colder months to come. You need to know the top gardening tips for winter, to make sure your outside space stays healthy. It is crucial to do the right work now so that your garden can survive cold winter months and still look stunning throughout.
So what are the top gardening tips for winter?
Gardening Tip 1: Protect your plants
Harsh winters can be a killer for even the most well-maintained outside spaces. Even if your plants and flowers are really healthy. Some simply might not survive in the harsh winter colds and frost.
The main plants you want to focus on are plants with open flowers or buds. They will be the most vulnerable for the cold weather.
You can simply use an old sheet to cover them. However, there are also special frost covers you can buy, if you prefer. Whatever you decide. Make sure you get this in place before the harshest of the winter starts where you are to help protect your plants through winter!
Gardening Tip 2: Water Before The Frost
In the wintertime, it is really important you stay on top of the weather forecast. Is there a frost coming? Make sure you prepare for it! Firstly, you need to make sure that any plants who cannot take the frost are either covered or moved indoors.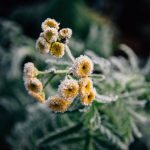 Secondly – make sure you water your plants before the frost comes. This is extremely important. As it will give all your plants and flowers the time to still really absorb any water before soil will get too cold for them to be able to. When the ground is frozen, it stops the water to be able to get to the roots. Don't overwater either as that can kill plants too. But just enough for them to survive the cold.
Gardening Tip 3: Hold Off On Fertiliser
Although it might be tempting to spruce up your ground and keep them very healthy. Wintertime is not the time to use fertiliser lots on your plants and flowers.
Fertiliser makes plants grow faster, quicker and better (when used well). Whereas wintertime is a time for your garden plants to rest. And lay dormant. So this is the completely wrong time to force them into a growth spurt! Which is the risk if you would use fertiliser int he winter. What then happens is that a plant that is not ready to come out yet, would start growing. Risking is not being ready – and not surviving the harsh winter months!
Knowledge Is Key
If the above shows anything, is that it takes a lot of knowledge and skills to care for a winter garden. Or a garden at any time of the year! It is very easy to make mistakes if you do not know exactly what you are doing. And that's where a professional gardener can really step in and help.
They know all the things there are to know about winter, frost, rain and protecting and maintaining your outside space. So if you do not know for sure, or need an extra pair of hands. Why not consider hiring a gardener even if it is to just temporarily help you out!
How Can Polo & Tweed Help?
Did you find these top gardening tips for winter helpful? Or perhaps you could do with some more, professional help? Really considering finding a gardener for your outside space! Polo & Tweed is here to find the best gardener for your needs and requirements. With clients and candidates all over the world, we match the best gardening professionals in the industry with the most suited roles. 
Our expert recruitment consultants have years' of experience in the private household industry and will be able to guide you through the whole process of either hiring a new gardener or finding a new job as one. Why not contact us now to get the process started!