Now that spring has sprung, is your garden ready too? Some would argue that what you do in spring is your garden, has the biggest effect on your outside space for the rest of the year. So make sure you are ready and follow the below list full of all the top gardening tips for springs. Or make sure you have a gardener who can complete these must-do tasks!
Top Gardening Tip 1: Check Everything!
Spring is an exciting time for your garden, as lots of life will come back to your outside space. But to allow new plants to grow and flowers to return, you need to check everything. How did your garden survive in winter? Start by checking all your plants and flowers to see if they have all survived the colder months. And make a list of everything that needs doing in the garden. So that you can make a structured plan and schedule it time-wise, too. Does anything need repairing? Clearing up? Replacing? Note it all down and make a plan!
Top Gardening Tip 2: Start With Big Repairs
So to start with your garden in spring, tackle any big repairs first. So here you want to think of any hardscaping issues there might be. Did any tiles break on your patio or any garden paths you may have? Do all the walls and fencing still look up to date and solid? Any raised beds or garden seats and benches that might need replacing or updating? Especially if seating has been left outside, there is a chance it might have gotten some damage over the winter months. So make sure you check everything thoroughly before you use it again, to avoid any safety hazards!
Top Gardening Tip 3: Time For The Big Clear Up
Are you ready for potentially the most important top gardening tip for spring? It's time to start cleaning! This is a very important, if not the most important part of your spring garden maintenance. The final winter months might have turned your garden into a bit of a mess. Especially if you have not been keeping it up. There will probably be lots of de-weeding to do. Which is a very important part of maintaining a healthy garden. Secondly, you want to clear up any leftover leaves, debris and dirt there might be lying around. Clear out any debris from your flower beds to really allow them a healthy chance in spring and summer to come!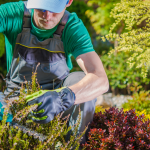 Top Gardening Tip 4: Start Pruning!
Pruning can be a challenging thing to do. You never want to take too much off bushes and shrubs. Or do it at the wrong time. But the beginning of spring is actually the perfect time to start pruning bushes, plants and shrubs. Make sure you check per plant to make sure they need it. As not all do! But most will really benefit from it. Always start by removing and chopping/cutting off any dead or damaged leaves or twigs. Make sure to only prune those plants that will start blooming in summer. Avoid pruning those plants that have already started blooming, as you will do more damage than good.
Top Gardening Tip 5: Get planting!
Early spring is an excellent time for lots of new bulbs and seeds to be planted. Make sure to check per plant, as it can differ. But once the biggest frost is out of the air, you can start planting anything you want to see in late spring and summer. Make sure to use fresh soil and fertiliser if needs be. And care for your new bulbs and seeds, especially more so in the first couple of days and weeks. Water regularly, and if some early spring frost does still appear, make sure to cover the plants or move them to a greenhouse.
How Can Polo & Tweed Help?
Did you find these top gardening tips for spring helpful? Or perhaps you could do with some more, professional help? Really considering finding a gardener for your outside space! Polo & Tweed is here to find the best gardener for your needs and requirements. With clients and candidates all over the world, we match the best gardening professionals in the industry with the most suited roles. 
Our expert recruitment consultants have years of experience in the private household industry and will be able to guide you through the whole process of either hiring a new gardener or finding a new job as one. Why not contact us now to get the process started!