This month's super nanny is Summer Hall.  Here she shares her fascinating insights into her successful career so far, how she's secured high paying nanny jobs, and her dreams and hopes for the future.
Full Name: Summer Hall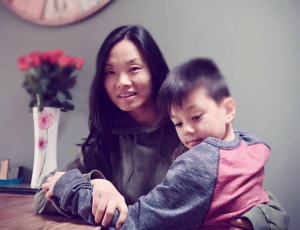 Age: 40
Location: Living in Cornwall
Profession: Nanny; Language tutor; Montessori Education Consultant
Why did you decide to enter your profession? I spent the first half of my career as a teacher, originally starting out as a Montessori teacher, then moving on to teach Mandarin at secondary and university level. Once my children were old enough and I had gained invaluable experience I decided to pursue a more rewarding profession as a specialised Nanny, more of an educational strategist than a normal everyday nanny.
Did you have a background/education with childcare or teaching? 
I worked as a Montessori teacher in a private school in London. Between teachings I had parents from school asking me to look after their kids during school holidays- not to mention raising two of my own!
What were the challenges you faced at the start of your career? 
In the sense of teaching and looking after the children I was lucky. Because I had such great experience from teaching and being around my own children, I found it quite easy to assimilate into the role of an educational governess. However, there was certainly a transitional period in which you need to get used to the intensive travel and lifestyle of the host families.
Tell us a little about your first position and what it taught you? 
My first position was for an international family back in the mid 2000's. I was taking care of two young girls and also managing their household. Life could be very unpredictable with children, I learnt how to adapt to the different situations.
Since then, give us some insight into your favourite jobs and what made them so special? 
For me, my favourite jobs are ones in which I feel comfortable and respected by the family. There needs to be a competent structure in place because often host families are like businesses, with many employees such as butlers, maids, drivers and chefs. If everyone knows their role within the structure my job is much easier as a whole.
What do you think is the difference between a nanny and a super nanny? 
I don't particularly subscribe to the notion of a 'super nanny' because it's just like any other job. If you are good at it and work hard you will do well, and I suppose you would then be described in such a way. It's important to interact with the children with appropriate discipline, discuss daily with parents, love the children you are looking after, and be proud of them. What I have found tells me apart from other nannies is my extensive teaching background and bilingual (English and Mandarin) ability.
How did you become a super nanny? 
There are so many elements to becoming a great nanny. Such as reserve of patience, solid communicator, self –motivated, etc. I work long hours and most often work with no supervision or daily oversight, so strong organisational skills are a must to ensure that the duties and tasks are completed at the end of each day. You have to be committed to the role of making a positive difference in the lives of the children in your care.
What are the perks of working in high paying nanny jobs – is it all just private jets and super yachts or do you have to work hard? 
It's easy to glamorise the lifestyle, and it is true that you can visit exotic places and eat the finest food, but it's no walk in the park. You are still working, sometimes 16 hour days. Don't forget, this is not my lifestyle, this is my boss's. You will always need to make sure you are doing your job with the right attitude.
What has been the most challenging situation you have faced in your professional career to date, and how did you overcome it? 
Taking care of children isn't just about working and handling the day to day matters, but also dealing with difficult situations that sometimes occur during the day. The most common issue that any nanny should be prepared for is how to agree on discipline with the parents. We all have different ideas, and co-operating with your employer on how to discipline their children can be one of the biggest challenges. Opening the lines of communications early on will help make it easier. Make sure to get clear and concise instructions of what the employer expects from you. It is a challenging career choice, and it does require a very specific type of person to take on as a job.
What do you most love about your job? 
That's the moment when I see the children are smiling at me and running to me to give me a hug!
What type of duties do you have to do as a super nanny? 
Each family has individual requirements, so as a nanny you need to look at the ages of the children, special needs, and parent's desires, etc. However, excellent childcare is the top precedence. Alongside of childcare, you may also be responsible for household management, homework supervision, organising play dates etc. These are common additional duties.
What character traits do you think a super nanny has to have? 
Our super nanny of the month has some great advice for aspiring nannies! #inspired Click To Tweet
A nanny that wants to be a great nanny should have many essentials i.e. trustworthy, flexible and deliver positive attention to the children and the family. They also have to be proactive rather than responsive. Another fundamental matter is we are the role models for the kids and being the best role model brings out the best in children. This does not mean that we have to be perfect, as it is actually good for the children to see that we are human and we do make mistakes too. We admit our mistakes, learn from the mistakes, and the children will be strongly influenced and we can help their emotional growth.
What are your top tips for interviews? 
First impression is vital even for the most qualified nannies. I would suggest presenting yourself with appropriate clothing and professional language during the interview. Read your CV thoroughly and the job advert before you meet the family, and prepare yourself for any possible questions. Listen to the family carefully during an interview and try to match their style and pace. Do ask questions, as it's not just to show that you're interested in this job role, but also gives you an opportunity to find out if this is the right place for you.
What would be your advice to new candidates starting out in the profession, or those nannies wanting to score high paying nanny jobs? 
You have to genuinely love children! This is a very personally fulfilling job, you need to spend the time to understand the basics of the different stages of child development, willing to learn, have an 'I can do' attitude, and ideally to be suitably trained.
Why do you prefer being a super nanny over an office job?
I enjoy the outdoors with children and the freedom of creativity! I'm never bored with the kids because no days are the same. Being part of a child's progress is rewarding, which you will not be able to equal in an office.
Lastly, what are your dreams and hopes for the future? 
I currently work for a lovely family and long may it continue, however I would also like to expand on my own business as a Montessori education consultant. My husband and I founded 'Little Stars Montessori' last year, which is a service that caters to a wealthy clientele setting up Montessori playrooms and environments for their children, from new born to school going age. We also provide a consultancy and training service for their staff to correctly use the Montessori equipment at home. It's in its early stages, but we are making great progress.
If you are looking for a super nanny, why not get in touch so we can help you with your search? Perhaps you are a candidate who would like to register with us? We'd love to hear from you and help you land high paying nanny jobs!