Table setting, or table management is an important aspect of silver service.  Each table plan and layout will reflect a different service form, so it's important that you're clear on the silver service settings you need for each event or occasion. Our handy guide below breaks down each type of service and the related table settings.
What is Silver Service?
Silver service is a dining service where food is brought and served to your plate, rather than traditionally plated up in the kitchen and then brought to your table.  Servers will use a fork and spoon, or two forks, and hold the cutlery like chopsticks or pincers to transfer the food from the silverware to each guest's plate.  They may also have to use a cake slice for food such as salmon. Traditionally, food is carried in on silver platters- hence the term silver service.  As a guest it's a special experience to be served in this way, and staff can control guest portions if needed.
Types of Silver Service
There are many types of silver service settings- do you know them all? #silverservice
Click To Tweet
Informal silver service
Formal silver service
Russian service
English service
French service
American service
Yacht service
Butler service
Buffet service
Tray service
What is Informal Silver Service?
At informal settings, fewer utensils and crockery will appear on the table.  As a general rule, informal settings will be dictated by the principal or manager and will be adjusted depending on the type of meal being served.  Informal settings will be used in high street restaurants and private, informal settings within the household.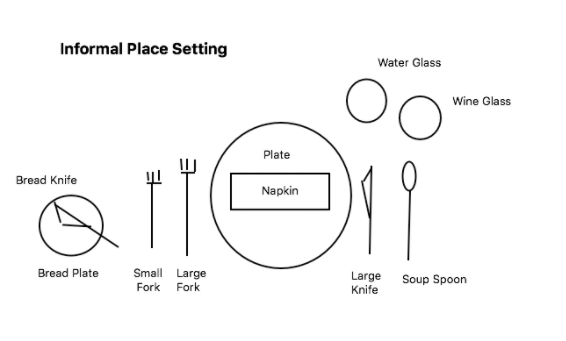 What is Formal Silver Service?
Accuracy and precision become paramount in setting the table for formal and 5* settings. This silver service table setting is based on the informal setting, but is expanded and developed.  It's used for multiple courses both in private homes and restaurants.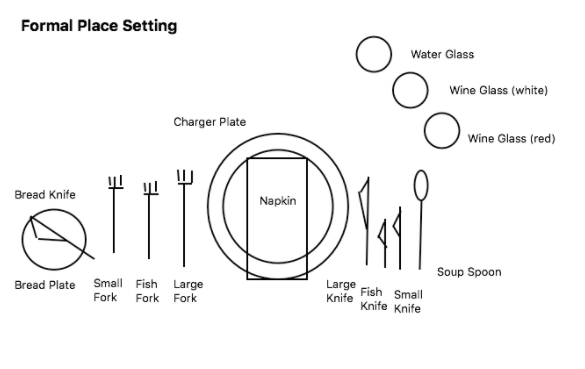 What is Russian Service?
Service à la russe (French: "service in the Russian style") is a manner of dining that involves courses being brought to the table sequentially. It contrasts with service à la française ("service in the French style") in which all the food is brought out at once in an impressive display.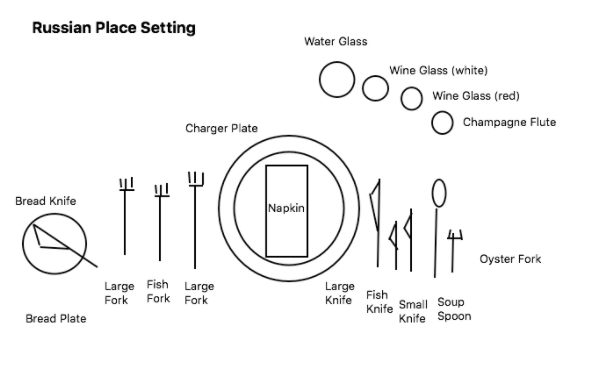 What is English Service?
English style service, or family service, is a great way of bringing everyone together.  It's closely linked with Butler service.  It's a fabulous choice for special events, or when your guests require a high level of interaction from the host.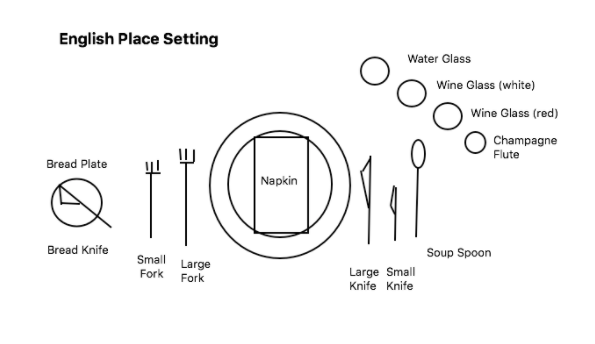 What is French Service?
Service à la française ("service in the French style") is when food is brought out at once in a big display.  It originates from the French court and for modern diners is an impressive event which makes them feel like they've been transported back in time to the French courts.  Formal dinners were served à la française from the Middle Ages until the 19th century.  

What is American Service?
This style of silver service table setting is typically used in less formal events, such as when you want your cuisine catered, prepared and plated in the kitchen.  It is an efficient and simple choice.  Service is approached from the left and cleared from the right.  Functional and easy to manage, this is a technique which is used around the world.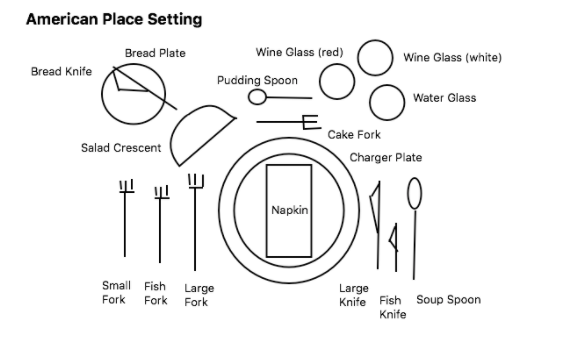 What is Yacht Service?
Whilst working on board yachts, you will be expected to know all  silver service table settings.  Each service will be called upon depending on the nature of the yacht, the guests and host's taste, and if the setting is informal or formal. The ability to be flexible and adjust is key.  
What is Butler Service?
Butler service is a modification of silver service.  In butler service, the guests help themselves from a serving plate held by the waiter or butler.  Traditionally this type of service was used on a Sunday when the household staff were off, and the Butler helped out at dinner.
What is Buffet Service?
When impressive displays of food are on offer, the buffet style food service is a common choice in restaurants and on yachts. It's a great way to display breakfasts, long lunches or more informal dinners.  It allows guests to pick out their food preferences and is an easy way to feed a large number of guests.
What is Tray Service?
Tray service is when food and beverages are delivered to the room for breakfast, lunch or dinner. You may be asked to bring a newspaper alongside the tray for breakfast, and it's important that the correct etiquette and service skills are used when entering someone's private space.
Regardless of the table setting that's used, staff should always be considerate and well trained. If you'd like any more information about our silver service training courses here at Polo & Tweed, don't hesitate to contact us and find out more.