Topic: How to have a successful maternity nurse career.
This month's Maternity Nurse of the Month is Zimmie. She shares her tips and experiences with Polo & Tweed as to how she's had such a successful career in the industry.
Full Name: Zimmie Silby-Scott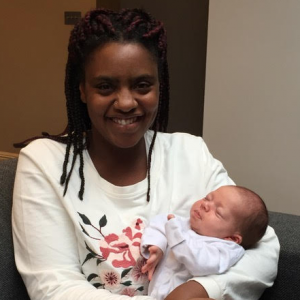 Age: 45
Location: Brighton
Profession: Maternity Nurse
Why did you decide to enter your profession? I have worked with children since I had my own daughter 25 years ago. I've worked in all childcare positions- from preschool to secondary school support worker- and when I was a nanny for twins who were were going off to school I decided to look for my next challenge. A colleague said that they were looking into maternity nursing and that I should look into it too. I did and loved the idea of helping families in the early stages of a bringing a baby home.
Did you have a background/education in nursing or maternity?
My background is in childcare. I've worked in playgroups, nurseries, secondary schools, been a nanny and also have my own daughter.
What were the challenges you faced at the start of your career?
The initial challenges were moving from being a nanny to maternity nursing and having the confidence to know that I could do it. Getting those first few positions was challenging, and I also found it difficult to work away from home.
Tell us a little about your first position and what it taught you?
My very first position was a 24/5 position with a lovely family in Sussex. I learnt that even though I had a qualification as a maternity nurse, I still had a lot to learn about working with families in close proximity. Saying "I'm not sure, I'll find out" is always better than saying something you're not 100% sure about.
Since then, give us some insight into your favourite jobs and what made them so special?
My favourite jobs are when I can work with the parents in a relaxing environment, such as where the parents aren't worried about routines and are happy for the day to be initially baby led. The child will always slot into a 4-hour routine, and be on their way to sleeping long hours at night, if you are relaxed about it.
I also love being part of the family, such as eating together and spending time with them.I always give the parents their own time as they don't want me around, 24/7 but it's definitely a two-way thing. If the parents are relaxed and happy, then I am and I'm happy to do that bit extra to make everyone's life easier, including cooking the odd meal, washing up, shopping taking the dog out etc. I am still in contact with families that I bonded well with.
What has been the most challenging situation you have faced in your professional career to date and how did you overcome it?
My most challenging situations are when I start to work with a family and they have read all the books regarding childcare, routines and sleep issues. They often want me to follow a set routine and want the baby to sleep through the night by week 6. It can be hard for parents when their babies don't slot into the book definition.
I overcome this by reminding them that babies are little humans and they have their own minds. I also suggest we try things in a different way for a short while if the routine they want isn't working. When parents see that their baby is happy, generally they become more relaxed.
What do you most love about your job?
Meeting new families, and helping them to adapt to their new addition.
What are your top tips for interview techniques?
Interview tip: don't agree to things you don't know you can achieve #realism
Click To Tweet
Be professional but also be yourself. Try to attend an interview in person rather than phone or Skype interviews. Don't agree to things you don't know you can actually achieve. You're interviewing them as much as they are interviewing you!
What would be your advice to new candidates starting out in the profession?
It's all about getting lots of experience and possibly offering your services for a reduced or even free rate- my first 24/5 maternity job I was paid £100 per 24 hours! Talk to agencies as jobs don't fall in your lap- you have to nurture your relationship with them. Finally, always turn up to interviews!
Why do you prefer being a Maternity Nurse over an office job?
I've done an office job and I much prefer the family contact and not knowing what's going to happen month to month. It's exciting working around the world- in the last year I've been to San Francisco and Geneva, and next year I'm off to Tuscany and Amsterdam!  I really enjoy helping families… maybe it's because I'm a middle child? I'm one of 5 so have been brought up around a large family.
Lastly what are your dreams and hopes for the future? 
I would love to use my skills to help young mums. It can be a scary time for any woman, but if I can help a young mum with the basics would be great. I had my daughter when I was 19 and remember that scary time. Luckily I had a big family around me, but not everyone is so fortunate. My hopes are to be able to still do the job I enjoy for years to come, interspersed with taking my family on a few lovely holidays.
Thank you to Zimmie for interviewing with Polo & Tweed as our Maternity Nurse of the Month.