One of the primary advantages of providing training to employees is that it keeps their current knowledge up to date, their skills sharp and their confidence high. It is even easier for staff to quickly improve their understanding when the training is made available online. Here are some reasons why you should invest in training for long-term staff loyalty.
Investing in your Staff
Employees always want to feel inspired in order to keep motivated. By giving them the opportunity to develop their skills and refresh their knowledge, they will feel more confident in their ability to progress. You need to keep your staff engaged. Investing in training for your existing staff will make them feel appreciated and that they are able to grow individually with your help. By showing your own loyalty to your staff,  this will encourage them to be loyal to you. You want them to stay with you for the long term. It is vital, to keep your staff happy. If someone feels as though they are not progressing in their job, they may start looking elsewhere for work. It is always a good idea to invest in training for long term staff loyalty.
Employees will become tools for agility in a changing environment if they can quickly obtain the information they require while working. Investing in training your staff, equips them with the confidence they need to feel competent in their job. A lack of training and development can have a negative impact on their drive and motivation. Investing in training with benefit the both of you. You will have highly-skilled staff, and they will be working for someone who shows they value them.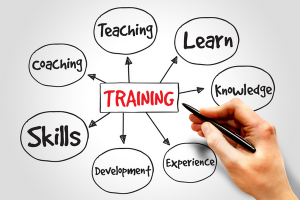 Types of Training Courses
There are various types of training available, including in-person and online training. Online training has become increasingly popular with e-learning courses becoming the most used training tools. Staff have the comfort of doing training in their own home or wherever they are in order to get started straight away. It is also handy to be able to track your progress online and also your instructor can monitor this from their end. E-learning courses are a fast, and efficient way to develop your skills. E-learning is a good option for those who live outside of the UK.
Alternatively, in-person training courses are good if you feel you learn better face-to-face. This also allows you to asks questions to the instructor, as soon as they come to you and get answers straight away. By being able to discuss fully, this will improve your overall understanding of the topic. Group courses are also a good option for open discussions on topics, as others may ask a question that you may have not thought about yourself.
Want to Sign up to our Training Courses?
Now you know why it is a good idea to invest in training for long term staff loyalty, you are probably looking for the next steps. Are you looking to source training for your staff or are you looking to sign up for a training course yourself? We have online and in-person training options available. Have you decided which training option would be best for your needs? If you are still unsure, our consultants are readily available to help you.