If you have any type of outside space around your house you care about, hiring a gardener is a must. It will take all the stress away, and all the hard work! When you hire a gardener you will have a clean, blooming, and well maintained outside space for you to enjoy all year round. But knowing how to hire a gardener can be a challenge, And you want to get it right!
So here is the complete guide on how to hire a gardener
Why You Should Hire a Gardener
It might not be the first thing people think about when considering to hire new staff. But investing in having a gardener, even if it is just for ad hoc work, can really transform your living space.
Although we spend lots of time indoors, the outside space is a really important part of our living experience. When the garden is clean, blooming, and maintained well, it really can transform the house as well.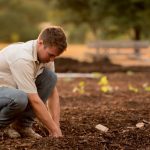 You would be surprised how much you can get out of even the smallest, darkest corners of your garden. Your gardener is not just there t0 plant and maintain, but also to bring style and vision. They can come up with the best ideas of how to make a seemingly dead corner of your garden come to life. How you can enjoy parts of the outside that you never really utilised before.
And best fo all, your gardener will be in charge of all the maintenance and upkeep! So you can relax and sit back. Enjoy your outside space. Knowing that is it in safe hands!
How to Hire a Gardener
Firstly, establish how many hours support you need. Gardeners come in all different types of setups. From full time employed to ad hoc and freelance contracts. Decide what you need for your gardening improvements to be made.
Then, consider all different routes to reach out and to hire a gardener. There are multiple ways to do this. From self-recruitment (gumtree, online job sites) through to a professional agency doing all the hard work for you.
Thirdly, think of all the tasks you want your gardener to do. Whether that is on a daily, weekly, or monthly basis. Whatever works best for you, and what your outside space needs. And don't be embarrassed – gardeners are used to doing heavy-duty work and getting their hands dirty! So the heavy groundsmen work can definitely be part of the package.
Fourthly, – and this is important – check references.  Whether you are self-recruiting or working with a professional agency. Make sure you do your own background checks for complete peace of mind. Your gardener will be spending a lot of time in your personal (outside) space. Perhaps alongside your children who might be playing outside. So this box needs to be ticked, firmly.
Fifth and finally, after you have conducted interviews and have done reference checks. Make sure you trial the candidate. It can happen that someone is great on paper, from their CV. And perhaps even the job interview went really well. But when it comes to actually execute the skills, they might not be up for the job. To avoid this, and to know exactly who you are bringing into your private home. Make sure you give your new gardener a probationary trial period to ensure that you've found the right person.
Pay The Right Salary
Paying someone the right salary is extremely important. It will make for a happier employee and someone who is willing to go the extra mile when needs be. When they do not feel the salary is right, people might start looking for other jobs very quickly. People will not stay as loyal, and will not be wanted to deliver their best work. So the right salary is key!
Gardener's salaries can vary very much, depending on location and type of role. What can be an acceptable salary in one country might not even be minimum wage in another country. Also, depending on the skills your gardener has, the salary might be depending on that. If your gardener has any qualified specific skills or has lots of experience, expect to pay more.
The below is an indication of a salary for gardeners in the UK.
Entry level/Less experienced Gardener & Groundsperson  with 2-4 years experience.
Expect a salary of £430-£600 gross a week live in and £510-615 gross a week live out.
Yearly salary range from £24,000 gross to £32,000 gross.
Mid level/More experienced Gardener & Groundsperson with 4-8 years experience.
Expect a salary of £610-780 gross a week live in and £6120-865 gross a week live out.
Yearly salary from £32,000 gross to £45,000 gross per year.
High level/Very experienced Gardener & Groundsperson with 8+ years experience.
Expect a salary of £790+ gross a week live in and £870+ gross a week live out
Yearly salary from £45,000 gross upwards.
Of course, depending on budget/package/skills required everything is always flexible and not set in stone.
Why Choose Polo & Tweed?
Hiring a gardener is an amazing decision to make! But how to hire, can sometimes be a challenge. Why not do it well, without any stress or timeconsuming processes and let us help you. Polo & Tweed work only with the best gardeners and groundsmen in the industry. Our highly experienced consultants are experts in the field and will guide you through the recruitment process seamlessly and effectively. Why not drop us a line and we can chat about your needs, and how best to help find and hire a gardener and take all the stress out of the process!