Are you moving house? Or have recently moved to a new place, with a garden? You should really hire a landscaper for your new home and outside space! Doing up the garden can often be the last thing on your mind when you have the whole house to sort out. That's why it is such a good idea to let a professional landscaper take over. Let them worry about all the planning and logistics and you will have the garden of your dreams without any of the hard work.
What Is A Landscaper?
So let's start by understanding what it is that a landscaper does. And why they are so suitable, especially for your new home. Or when you are thinking of a complete overhaul of your garden.
A landscaper works on all things outdoors. This can be private or public gardens, public spaces and building work. Think of tasks such as building fencing, walls, driveways and patios, to name a few. It is likely that landscapers will need, or have, several qualifications for their work. Especially when it comes to more building-like tasks. They might need trade licences too, and the ability to operate heavy machinery and equipment. Which often requires a certificate too
What Does A Landscaper Do?
Why you should hire a landscaper for your new home is really because of the variety of skills they can offer. They will be able to fully redesign and build your new garden from scratch. So this can be great for a newbuild. But also if you simply feel like changing things up. A gardener can be of great help too. But when it comes to 'hardscaping' (building works etc) a landscaper will be able to do all that for you too.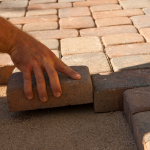 So let's have a look at some actual specific tasks a landscaper could do for you:
Design & build of new gardens and outside spaces including driveways, fencing, gazebos, pavements, decks, terraces etc.
Some landscapers do both design & build, some do the labour/build side of things, and a specific architect would come in to do the design.
All the construction prep & grounds work.
Analyse grounds, soil and spaces to make sure the build will be suited.
Ordering suitable products needed for the build.
Construction of any of the above. Including walls, barbeque areas, ponds etc. For a swimming pool, you would normally need a specialist swimming pool company, but your landscaper might have the contacts or can supervise the build.
How To Hire a Landscaper
Do you know how to hire a landscaper? You can either try and put an advert out yourself, use word of mouth or use a professional agency to do all the work for you. Using word of mouth can be a really effective way of finding someone. However, you have to keep in mind that someone who is suited for one person, might not at all be suited for you. So just because your neighbour, for example, loved their landscaper. Does not automatically mean they will be right for you, and the job too. So when you go down the route of self-hiring, or recommendation. Make sure to stay critical. And do the due diligence fo reference checking and interviewing several people for the job.
Another option of course is to use an agency to hire your new landscaper. Using an agency will give you the peace of mind that your recruitment consultant will take you through the whole process. And guide you through everything without you having to spend too much time on it yourself. Another great thing about working with an agency is that all their candidates will be fully vetted and checked. So that any candidate you will consider for your role is qualified and suited for the job. That will save you a lot of time! And will make you find the right landscaper for your home quickly and efficiently.
How can Polo & Tweed help?
Are you ready to hire the best landscaper for your home and outside space? Why not let us help you! At Polo & Tweed we spend a lot of time extensively vetting and registering candidates before they even come on our books. So you know that whichever candidate will be sent to you, has been thoroughly checked. This also means that we only have the best gardeners and landscapers on our books ready for the next challenge. So we can find the right new landscaper for you with ease. Why not contact us now to see how we can help!