Treasure Baskets are my new favourite activity to do with the children. It helps them focus on one topic and I get to include a load of goodies for them, to learn about that subject. For under 1's it's good to do sensory Treasure Baskets that include, parts of nature, rice shakers, coloured pasta etc so they explore their sensory skills.
As a Nanny I love to make sure my children in my care realise that they have potential, help them tap into their imaginations so they can think outside the box and most importantly ask them what they want to do or be, no matter how 'out there' it is I will create a Treasure Box around it so they can experience their role models for the day, you never know this may drive them as they get older.
Here are three example I have created with the three year old twins I look after at the moment. I like to include a story, craft activity and outdoors activity based around the subject.
Vets
This Treasure Basket was all about looking after animals and who do we call if we need help with our pets.
The girls loved grooming their pets, looking after their fur, making sure they only eat certain foods and giving them lots of cuddles!
You will need:
Basket
Soft toy animals
'Food' for the animals
Tools to help care for the animals (brushes and medical)
Explorers!
This Treasure Basket was all about creating explorer goggles, I hid some 'wild animal teddies' in the garden, made a list and the girls went on their adventure!
I told them the story of Ruth Harkness – she traveled to China in 1936 and brought back the first live giant panda to the United States – not in a cage, or on a leash, but wrapped in her arms.
You will need:
Basket
Wild animal teddies
Imagination!
NASA
For #PRESSFORPROGRESS Day we focused on Mae.C.Jemison – an American engineer, physician and NASA astronaut. She became the first African American woman to travel in space when she went into orbit aboard the Space Shuttle Endeavour on September 12, 1992.
An amazing role model to be reading about and designing our own Space Rocket and moon rocks! I let them also watch the NASA Rocket Takeoff on the TV, it was amazing to see them ask questions and realise they can be astronauts as well!
You will need:
Silver Foil
Cardboard
Scissors (with supervision)
Pens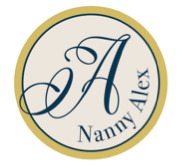 If you try any of these Treasure Box ideas please do let us know!
You are welcome to follow Nanny Alex at her website or social media.
If you are looking for a nanny like Alex we'd love to help, Polo & Tweed regularly recruit and place nannies around the world.  Get in touch with us today!