Have you ever thought about proper dining etiquette? Everyone remembers the famous scene in the Pretty Woman Movie, where Julia Roberts accidentally shoots a snail across a very fancy restaurant. A great example of a dinner faux pas, but perhaps an unlikely one. But if you find yourself at formal dinners, whether this is for business or social events. Then it's important to know your dining etiquette and prevents those dinner faux pas from happening!
Dinner Faux Pas 1: Arriving Late
This should be a very clear, and therefore also the first rule of dining etiquette. Never arrive late1 Whether you are attending a big business dinner, or going to a small gathering with friends.
In most cultures, arriving late is a very big faux pas. It will be seen as offensive and disrespectful. Although it might be a little bit more socially acceptable to arrive late in some cultures. that does not mean you should. So even if you know that is is not going to be a formal get together: plan to be on time.
And of course, things can happen, situations may occur. But what you should be doing, is prepare for any situations so that it will be hardly possible to be late!
Plan Transport
Planning your route is one big thing you can do. Do you know how you are going to get to the venue? Have you got a Plan B for this? Having a plan B is key to make sure you are not late. what if there is a public transport strike? Or perhaps there is lots of unpredicted traffic? Make sure you have several options for transport to get to the location for the dinner so that you always have an option.
Plan Your Route
Do you know exactly how to get there? Make sure you do not only plan your transport, but also your route. Do you know how long this route normally takes? Now make sure you add at least another 20-30 minutes on top of that. It is always best to arrive early, rather than late or rushing in last minute. So leave plenty of time for your travel, know your route and show up in time.
If you indeed happen to arrive early and it is a private dinner party, you might want to wait until the time the host said you could come in from. Before that, your host will still be running around trying to organise any last minute things and they would not be ready to entertain you just yet!
Dinner Faux Pas 2: Conversational Topics
Do you know the 3 absolute no-go conversation topics during dinners, business or social? There are as follows:
In whatever company you find yourself in, these three topics are always best to completely avoid. Not only can they have very negative connotations for people. They can also cause discussions, and every worse: fierce arguments and disagreements.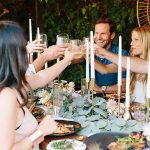 A dinner party of event is not the time to get into heated arguments. Conversation should be light, positive and pleasant. Even though you might find politics, for example, a very interesting and easy subject to discuss. This will not count for everyone else and you cannot predict this beforehand.
Good conversation topics can be as follows:
Travel
Art
Books
Theatre
Short personal anecdotes (as long as they are positive and do not touch upon the no-go subjects mentioned above)
Make sure to ask open-ended questions on the dinner table and include everyone at the table if you are in a small group. If you are dining at a large table then it is best to stick conversations with the people sitting near you. So that you do not have to shout across the table to have a conversation with someone sitting far away!
Dinner Faux Pas 3: Phone Etiquette
In modern-day times, it has become more and more socially acceptable that people carry their phones wherever they go. And when living in a 24-hour society, when emails pop up on your phone at any given time. It can be difficult to try and switch off. And not constantly check to see if you have missed something.
However, when it comes to dining etiquette. Having a phone with you at the dinner table is a big dinner faux pas. When dining, your attention should be to the company and the food. Having a phone with you will always look rude and it might show you find other things (such as your phone!) more important.
Another big dining faux pas, when it comes to phones, is making photos of your food. It is a very popular thing to do but in formal settings please try to avoid this. Your food might get cold, and again it comes across rude that you are not focusing on your fellow dining guests but instead is using your phone.
If for some reason you do have an emergency phone call or message to take, then make your excuses and walk out of the room to take the call or the message. But never have your phone sound on, and never have it on the table with you.
How Can Polo & Tweed Help?
Are you confident in your dining etiquette? Or do you need more help in knowing everything about dining etiquette and avoiding those faux pas? Then we can help! Polo & Tweed are world-leading training providers to students all over the world, with an online academy for all the courses too – including Online Dining Etiquette training! The internationally acknowledged training academy only works with the absolute best trainers in the industry. They have dedicated their years of experience and skill to the students and developing the online training courses.
Anyone will be able to learn so much from the online Dining Etiquette training course. The online courses will provide you with a certificate upon passing your final assessment. 
To find out more about what options work best for you do contact us here now and we look forward to getting you started and becoming a dining pro!