A successful small business is built through networking! Click To TweetIn modern times, small businesses rule the world.  In Western society, more and more startups are being founded, with individuals creating unique brands and products to serve gaps in the market.  Although some parts of the world are slower to catch up, there has been a huge boom in small businesses in the UK.
The FSB quoted that the number of companies and sole proprietorships has increased in the last year by 128,000 (+7%).  These exciting figures show that entrepreneurs are being born every day – taking new steps and attempting to compete with larger established businesses.
But once the business has been established, and regardless of the stage of growth, it is important to grow the network of your small business.  Unless you have a large amount of investments to put into network growth and marketing, it's important to take simple yet effective steps in order to maximise the opportunities to grow.
So what are the best practices for building your small business and how can a personal assistant help?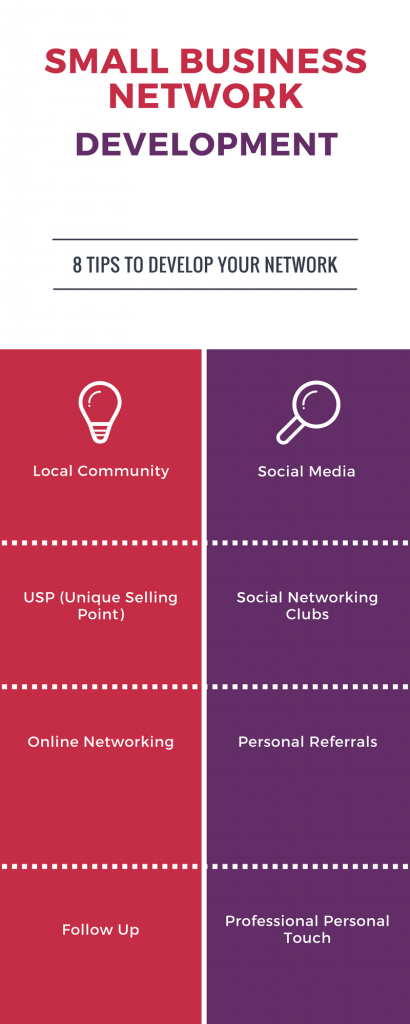 There are a number of ways that small businesses can develop and reach new potential clients and customers.  Many can be done as a sole trader, but if you are the 'ideas' person, it is vital to consider how your time is better spent.  Perhaps it might be wise to consider getting an assistant.  Having a right hand man or woman to assist can mean doubling or even tripling your productivity.
Here are 8 tips for successfully developing your small business network, and ways your PA can assist.
1. Local Community
There will probably be more small businesses than you thought operating in your area.  Your local community is a rich source of support and prospective clients, offering ways to reach out and connect.  Your personal assistant can start to research the local community, finding out the different types of businesses and owners in the area.  They can do the ground work, so that when you reach out it feels personal and, most importantly, informed about what these local businesses are about.  Your PA can help arrange meetings and setup the first introduction with the local community members, ensuring that you are always professional and responsive.
2. Social Media
If you want to grow your business network, regardless of the type of business you have, you must, must take into account social media.  There is a reason why Facebook (although it is free to use) is a multi-billion dollar corporation. They have access to people's data and, in turn, you can pay for advertising to reach them directly.  You might not have millions of dollars to spend on a social media campaign, but there are lots of cost-effective ways your personal assistant can help manage your social campaigns.  They can use a social media manager such as Buffer or HootSuite, and they can ensure that posts are scheduled and worked to help reach new audiences.  They can also manage the pages themselves on the various networks, eliciting quick response – after all, in a competitive world, if you don't have a good social media presence it's unlikely your business network will grow.
3. USP (Unique Selling Point)
It's a challenge that all small businesses face – getting side-tasked with admin and paperwork. As well, additional projects might steer you away from day-to-day business.  Firstly as the business owner, you should be able to get excited and be allowed to explore new ideas and concepts – after all, that is why you have become an entrepreneur in the first place.  However during times like this, the day-to-day running of the business can be forgotten.  So your PA can ensure that it doesn't.  They can see to it that all the admin/daily business activities are dealt with, and they can also help encourage you to stay focused on time or business sensitive tasks.
4. Social Networking Clubs
There are lots of in-person social networking groups that exist, in a day and age where most business seems to be conducted online, people yearn for human connection.  The Institute of Directors arrange many in-person meetings across the UK for their members, and this is just one place that you can connect with like-minded business owners.  It is important however that you spend your money wisely and look to join the right type of networking clubs. Your PA can research the local clubs in your area, look at pricing and what you get for your money – helping you make the right decisions to help expand your business network.
5. Online Networking
This is time consuming.  Unless you suffer from insomnia, there is probably only so many hours of the day you can look to connect with people online.  So this is where a PA comes in really handy.  They can ensure that you are networking and responding to enquiries.  They can manage your emails, bookings, orders and respond to clients in a timely manner.  They can also make sure that new enquiries are followed up with – creating reminders and systems to keep track of every lead.
6. Personal Referrals
Word of mouth is the strongest way to build a small business.  If you provide a good service to a client, or a good product, then they will in turn tell their friends, family and network.  And thus your business network will grow.  But how do you keep track of this?  A good PA will help you track these personal referrals, and will help reward and thank referrals when they happen.  A good PA will develop their work flow systems to allow you to track your enquiries, how word of mouth works and the literal cash in the bank it produces.  Money well spent!
7. Follow Up
Most business network leads are lost because the owner forgets to follow them up.  With most people being inundated with emails, calls and online spam, an enquiry they make (and one that they are interested in) can well be forgotten. Therefore it's your job to follow up!  But that is easier said than done when you are actively running your business.  Simply put, a PA will ensure that you never miss a follow up, and that any business networking opportunity, no matter how small, is never missed.
8. PPT (Professional Personal Touch)
For your business network to grow successfully you must never forget your PPT.  And when faced with mountains of paperwork, daily admin tasks and a growing list of demands and enquiries from your clients, your PPT might become secondary.  However this is what made you a success in the first place!  It's the detail that counts, and your business network will suffer and diminish if you don't keep the attention and the personal touch.  Your PA becomes an extension of you and your business, and can help build and grow the momentum and continuity.  It's worth every penny spent.
If you are interested in hiring a wonderful part time or full time personal assistant to help develop your small business network we'd love to help.  Why not get in touch with us today to see how we can help?