Laundry, it seems to be the most never-ending task in any household. Do you like doing laundry? Or is it one of the tasks that you dread the most? It also can be quite a challenging task to do! Especially when you work with different types of clothing, it can be difficult to get laundry completely right. But did you know you can become a laundry pro, with online laundry training? From the comfort of your own home, you can learn everything there is, and you will get faster at it, too!
So how can you become a laundry pro with online laundry training?
What is Online Laundry Training
So first, let's have a look at what exactly online laundry training is. It might sound strange to do a laundry course online. But it couldn't be further from the truth!
Laundry training is perfect for an online format. Do you really want to spend lots of time and money to travel to a training venue? Sit in a big room with lots of other people, and possibly even having to take a day off work to accommodate the training day and time? No!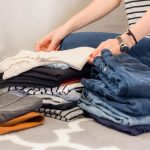 Becoming a Laundry Pro and learning to do laundry and clothing care well is very important, but it really shouldn't be taking over your schedule. It's an add-on skill that you want to be adding to your repertoire.
Online laundry training is created by only the most experienced professionals in the industry. They really know everything when it comes to laundry and clothing care – and there is a lot to learn! You will get all of the laundry course modules and information you need in an easy to navigate online format. You simply log in, get yourself comfortable with a notepad ready, and off you go!
The online Laundry training is set up in a way so that you will learn lots of practical skills too. As laundry, at the end of the day, is a very practical thing to do, and know about. So you will learn and study your modules, but besides that, there will be lots of practical training videos. This way you can watch exactly what needs to be done, and you can replay it as often as you like. You will also have your newfound knowledge tested instantly in the form of short accessible quizzes and assessments. So that you immediately know what you might understand fully already, and what things you might have to look over again, to get the most out of the course.
What To Learn in Online Laundry Training
So an online laundry course is not just designed for you to learn how to operate a washing machine. We delve deep into the subject of laundry and clothing care so that you will really feel like a laundry pro at the end of your online training course!
Do you know how to care for fine garments such as lace, fur, and velvet, for example? Do you know how to remove a stain out of wool or silk?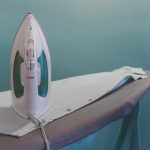 And what are your ironing skills like, and have you ever used a steamer?Also, why not learn about the best, most efficient, and neat way to fold clothes. When to hand wash, and when to use a drycleaners. All of these subjects and more will be found in your online laundry training course, to make you the laundry pro!
Why Online Laundry Training
Now that you have a better understanding of how Online laundry training works and what it can contain, you are ready to become a laundry pro! Doing online laundry training is such an accessible way to learn more about the most hated household task, and it will save you so much time! But did you know that online training itself already has so many benefits in comparison to face to face training?
It Will Save You Time
Do you really want to spend lots of time travelling to a training venue to learn laundry skills? It can be a really time-consuming thing to do. And you might even have to take time off work for it!
Or, even more frustrating: you found a course you really like, but it is hosted in another country. Again, do you want to travel, now internationally, for a laundry training course? And potentially having to stay over somewhere? Doing it online is so much more convenient! And you are not restricted by  – whenever you want! You will not be confined by the set timings of a live training course at all.
An online training course allows you to spread the course material out over the times when it works for you. So you don't just have to remember everything or make crazy notes, during one short training day or weekend. You will be able to do an online training course at your pace – sometimes ever spread out over several months. This means you can take the time you need for your training. And go back to it whenever you feel like you can really put your full focus and attention on it. This will maximise your learning intake and your skills taken from the course.
It Will Save You Money
Another big positive of online training – it will be cheaper! Doing an online laundry training course will save you a lot of money in comparison to  doing a face to face training course. Not only will you save money on the actual costs for the training course, but think about the extra costs that you will have spent getting to the training and maybe even having to stay overnight. And all the other costs that you will incur when travelling. Even the takeaway drinks and snacks you might pick up on the go can add up, especially if it means you had to give up work shifts to be there. You will have none of these issues when doing an online Laundry training course!
How can Polo & Tweed Help?
Polo & Tweed are world-leading training providers to students all over the world, with an online academy for all the courses too – with Laundry Training being an extremely popular option!
The Polo & Tweed training academy only works with the most experienced, top trainers in the industry. They have dedicated their years of experience and skill to the students and training development.
Whether you are completely new to the hospitality industry or have working in Front of House for many years. You will gain a great amount of invaluable knowledge and skills from the online training course. And that can open so many doors for you and your career.
To find out more about what options work best for you do contact us here now and we look forward to speaking to you!