Yacht Crew Training
A yacht or superyacht will be crewed by the very best.  The teamwork and crew must effortlessly blend together in order to assure the highest level of perfection is adhered to.  Regardless of the type of yacht, be it a motor yacht or sail yacht, the hierarchy and skills each crew member hold becomes a valued part of the team.
Our yacht training is the complete package.  We will work alongside the specific yacht and tailor the training we provide to ensure that it targets the area required.  From Silver Service through to yacht-specific housekeeping, to guest interaction and etiquette, our yacht trainers will ensure the crew standards are brought to impeccable levels.
Captains & Chief Steward
If you have existing crew but need to focus on specific areas of improvement, our training programmes can help.  Our trainers are able to work in-situ and we can fly the trainer to your yacht. Training is most effective in-situ where trainers can work with the crew in the environment in which they work on a day to day basis.  
All training dates will suit your timeline and port itinerary.  Alongside specific skill development we can target group and crew teamwork, encouraging leadership and initiative. For more information, submit and inquiry form and one of our professionals will get in touch with you.
Professional Crew
In a competitive market every crew member needs to make sure their CV and physical skills are of the very highest level. As recruiters we have thousands of candidates on our books and for competitive placements it can be difficult to stand out from the rest.
If you're just starting your career in the yachting industry, pursuing professional training and an official certificate can provide the boost you need for your career. Experienced crew know that continuing education is a vital progression in their career. By keeping up to date with new techniques and revisiting the traditional approaches, your chances of attaining higher level positions increases considerably.
Types of Yacht Training Courses
We offer group house manager  or private one-to-one classes. We are always happy to advise and discuss what might be the best approach for you, as each client is different.  If you have more questions please get in touch.
Group Silver Service/Housekeeper/Yacht Management Training Classes
Next Silver Service Group Class: May 25/26/27th 2018  – Register Here – LIMITED SPACES!
Next Yacht Management Group Class: May 28/29th 2017  – Register Here – LIMITED SPACES!
Next Housekeeper Group Class: June 22/23/24th 2018  – Register Here – LIMITED SPACES!
Group classes are held in London or Reading (home county to Downtown Abbey) and run from approx 9:00-6:30. During the group classes your members of staff will be joined with a small group of like-minded students (no class is bigger than 8-10 students, but often much smaller).
Group classes provide an open and engaging environment to learn. Videos, digital handbooks, and highly involved trainers encourage the student to participate in every detail of the training.  At the end of the training course our trainers invigilate an exam to assess each student's skills, providing feedback and instruction before awarding them with a certificate of completion.
Private Yacht Management Training Classes
Private classes can be held anywhere, but are most typically conducted on board.  We feel that one-to-one training in-situation is the most effective way to teach yacht management because the student is able to learn in the same environment they will be working. Students are more comfortable to ask questions and receive feedback when they are in their own environment which makes the training process much more personalised and effective.  We do however understand that due to discretion and other staff in the crew, it might be more suitable for you to use our own training venue for your private training.
Our in-situ training courses are very flexible, allowing you to mix and match training modules best suited for your staff. This tailored approach also saves time. It's an excellent an option for clients who have limited time and wish their staff to attend specific dates for the training.
In-situ training is an entirely bespoke option and we can send a trainer to you wherever you may be. Our trainers travel around the world, to your yacht – wherever the training needs to take place we can perform it.
Our Yacht Manager Trainers
Our yacht management trainers are experienced Butlers, Estate and House Managers with specific backgrounds in working at sea.  They have been working in the industry for many years, and have an intimate knowledge with every type of service and scenario you may find yourself in.
Many of our students remark how enjoyable they find the stories and insights the trainers teach, giving first hand knowledge into the background of service both in a domestic and corporate environment.  Although the trainers are mainly male, we have a smaller selection of female trainers for Middle Eastern households or crews should it be required.
Yacht Management Training – Pricing
The cost for the two day group house management course is £600 (inclusive of VAT).
The cost for the three day group silver service course is £960 (inclusive of VAT).
The cost for the two day group housekeeping course is £960 (inclusive of VAT).
All course dates can be seen here.
Each course includes the handbook (digital), lunch, and certification.  At the end of the training and following your assessments (both practical and written), you will receive a Polo & Tweed certification.
For private one-to-one training we ask you to drop us a line so we can discuss your needs.
Yacht Training Modules
These are some examples of the core training models we offer. Our group training is regularly taught throughout each year.  You can join as many courses as you feel suited to your needs and requirements.
Silver Service & Table Management Modules
Table Management
Silver Service
Butler Service
American Service
Buffet Service
Tray Service
Yacht Service
Party/Event Service
Wine Service
Champagne Service
Wine Pairing
Tea & Coffee Service
Afternoon Tea & Coffee Service (High Tea)
Service Etiquette and Address
Arrival & Departure Etiquette
Problem solving
Teamwork
Hors D'oeuvre
Glass Polishing
Silver Polishing
Napkin Folding
Cigar Service & Preparation
Hygiene – Food and Personal
Body Language
Ambience
First Impressions
Finishing Touches
Housekeeping Training Modules
Housekeeping Areas: Living Room
Housekeeping Areas: Bedroom
Housekeeping Areas: Bathroom
Housekeeping Areas: Drawing Room
Housekeeping Areas: Dining Room
Housekeeping Areas: Kitchen
Housekeeping Tools
Housekeeping Techniques
Special surface care: Marble
Special surface care: Crystal
Special surface care: Brass
Special surface care: Wood
Special surface care: Silver
Special surface care: Glass
Special surface care: Enamel
Special surface care: Chrome
Special surface care: Technology
Special stain care: Blood
Special stain care: Coffee
Special stain care: Red Wine
Care of Fine Art
Care of Antiques
Finishing touches
Flower Arranging
Turndown Service
Laundry
Care of fine garments – Silk
Care of fine garments – Wool
Care of fine garments – Lace
Ironing
Folding
Pressing
Steaming
Mending of Clothes
Shoe Polishing
Shoe Care, Maintenance and Storage
Handbag Care, Maintenance and Storage
Valet
Wardrobe Management
Packing and unpacking
Window Care
Pet Care
Dry Cleaning
Yacht Management Training Modules
Private Yacht Hierarchy
Staff Management
Time Management
Teamwork
Routines & Schedules
Interviewing New Staff
Creating an Employer's Handbook
Budgets
Inventory
Purchasing
Yacht Security
Fire Awareness
Health and Safety Awareness
Dealing with Contractors
Problem Solving
Arrival & Departure Etiquette
Party & Events: Organisation & Planning
Body Language
Ambience
Etiquette
First Impressions
Shooting Etiquette
Finishing Touches
Yacht Management Course Dates

April – 23/24th – FULLY BOOKED

May – 28/29th – LIMITED SPACES – Register Here
June – 25/26th – LIMITED SPACES – Register Here
July – 30/31st – SPACES – Register Here
August – NO TRAINING
September – 24/25th – SPACES – Register Here

October – 29/30th – SPACES – Register Here
November – 26/27th – SPACES – Register Here
December – NO TRAINING
Housekeeping Course Dates

April – 20/21/22nd – FULLY BOOKED

May – 18/19/20th – FULLY BOOKED
June – 22/23/24th – LIMITED SPACES – Register Here
July – 27/28/29th – SPACES – Register Here
August – NO TRAINING
September – 21/22/23rd – SPACES – Register Here
October – 26/27/28th – SPACES – Register Here
November – 23/24/25th – SPACES – Register Here
December – NO TRAINING
Silver Service Course Dates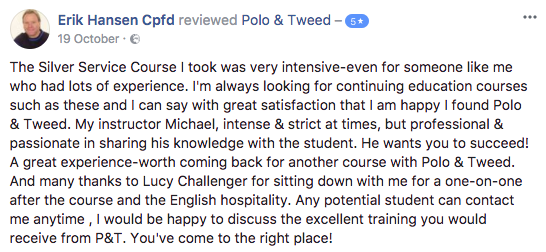 February  – 23/24/25th – FULLY BOOKED
March – 23/24/25th – LIMITED SPACES – Register Here
April – 20/21/22nd – SPACES – Register Here
May – 18/19/20th – SPACES – Register Here

June – 22/23/24th – SPACES – Register Here
July – 27/28/29th – SPACES – Register Here
September – 21/22/23rd – SPACES – Register Here
October – 26/27/28th – SPACES – Register Here
November – 23/24/25th – SPACES – Register Here
December – NO TRAINING
Yacht Management Training Enquiry